raise election accuracy
Election errors can lead to lengthy legal processes and costly do-overs. Modern GIS technology transforms voter lists into geospatial pinpoints, and ensures that voters and candidates are placed in the right precinct.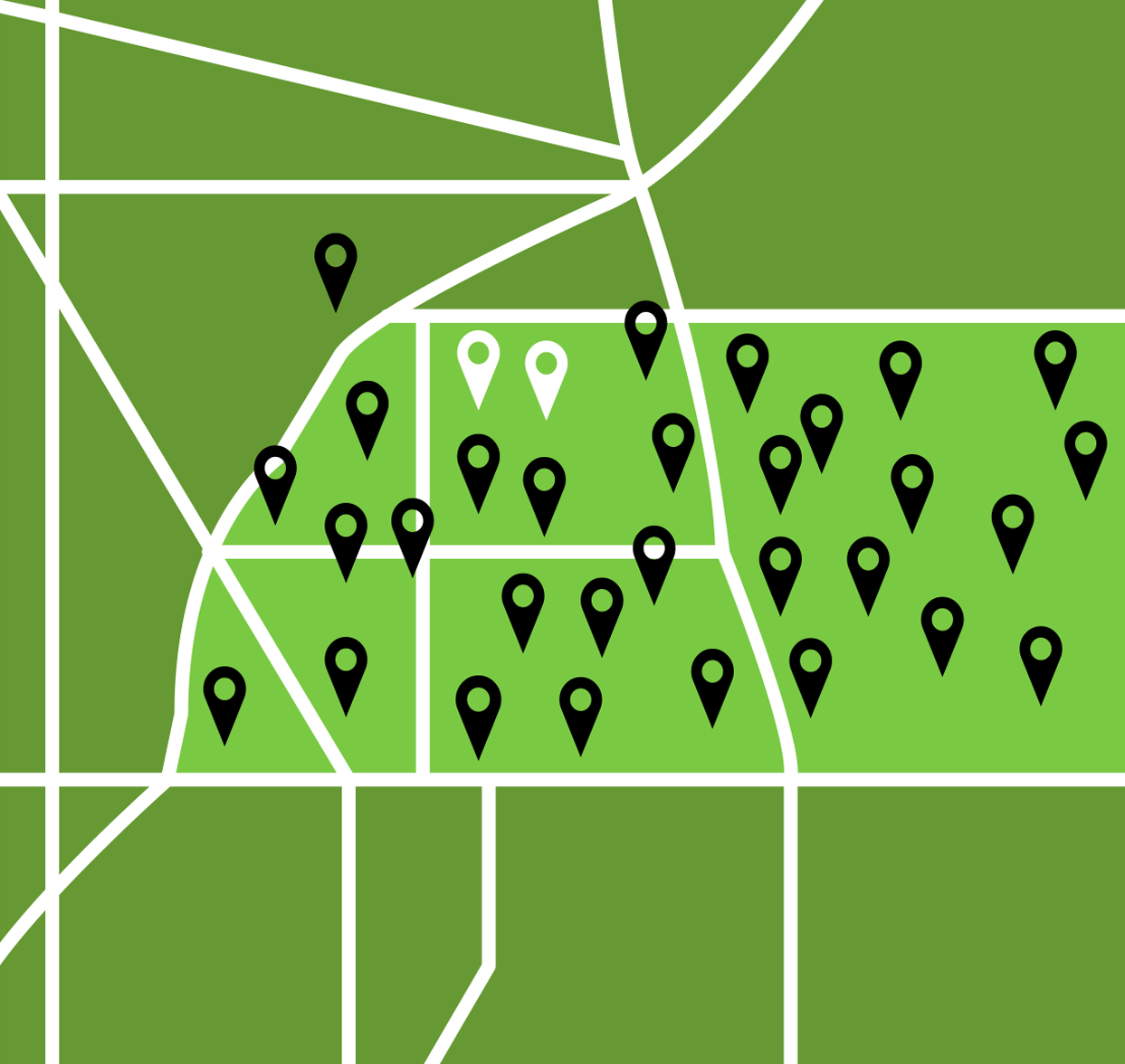 SAVE TIME AND WORK EFFORT
Geospatial data made visual on a map are much easier to check for accuracy than lengthy voter address lists. Similarly, assigning voters to a new voting district and creating precinct definitions can be done in minutes with GIS.
BOOST VOTER CONFIDENCE
When fewer errors are reported after an election, voters' confidence that their voices are being heard increases, and their faith in the democratic system is strengthened.
RIGHT BALLOT TO RIGHT VOTER
Best Practices Guidance:
— Learn from other states
Learn from other states how to best advance the use of GIS in elections. Download it here!
VOTER REGISTRATION SYSTEM
WITH GIS INTEGRATION
Running only one system saves time, reduces errors, enables audits, and facilitates redistricting. 89% of states expect full integration by 2027.
WHY GEO-ENABLE ELECTIONS?
Integrating GIS in elections management ensures that voters are placed in the right voting district, receive the right ballot, and vote in the right electoral contests. It also saves time and work effort, facilitates audits, and makes redistricting easier. Fewer errors, easy visualization, and greater transparency increase voters' confidence that their voices are being heard.
THREE STEPS
YOU CAN TAKE RIGHT NOW
Please add me to the Geo-Enabled Elections working group
The Geo-Enabled Elections Project
The Geo-Enabled Elections project, 2017-2022, worked to strengthen the accuracy and reliability of America's electoral system and to increase voters' confidence that their voices are being heard in each election. The project advocated for a stronger dialogue between state GIOs and election directors and developed best practices – as well as trainings and resources – to help states and counties leverage GIS data to achieve more effective and accurate elections. Read more here.
While much of the world focused on COVID-19 and election controversy, a quiet revolution was taking place behind the scenes. Despite numerous challenges, and despite sizable turnover among election staff (52% of states saw a change in election leadership 2018-2022),...
read more
Utah
"Placing voters within election boundaries is essential to enable a highly accurate election process. It's hard to imagine relying on anything but a well-implemented GIS system for reliable boundaries and locating voters."
Justin Lee, Election Director Utah
Washington
"Geo-enabled elections are accurate elections. GIS integration allows us to quickly, easily, and accurately pinpoint our voters to ensure they receive the correct ballot."
Lori Augino, Election Director Washington
Hawaii
"GIS has been critical in improving Hawaii's voter registration processes including online voter registration, which resulted in fewer paper registrations and better use of staff time. Additionally, during natural disasters, GIS has allowed us to quickly understand the impact on voters and plan for alternatives."
Marc Arakawa, Hawaii Office of Elections